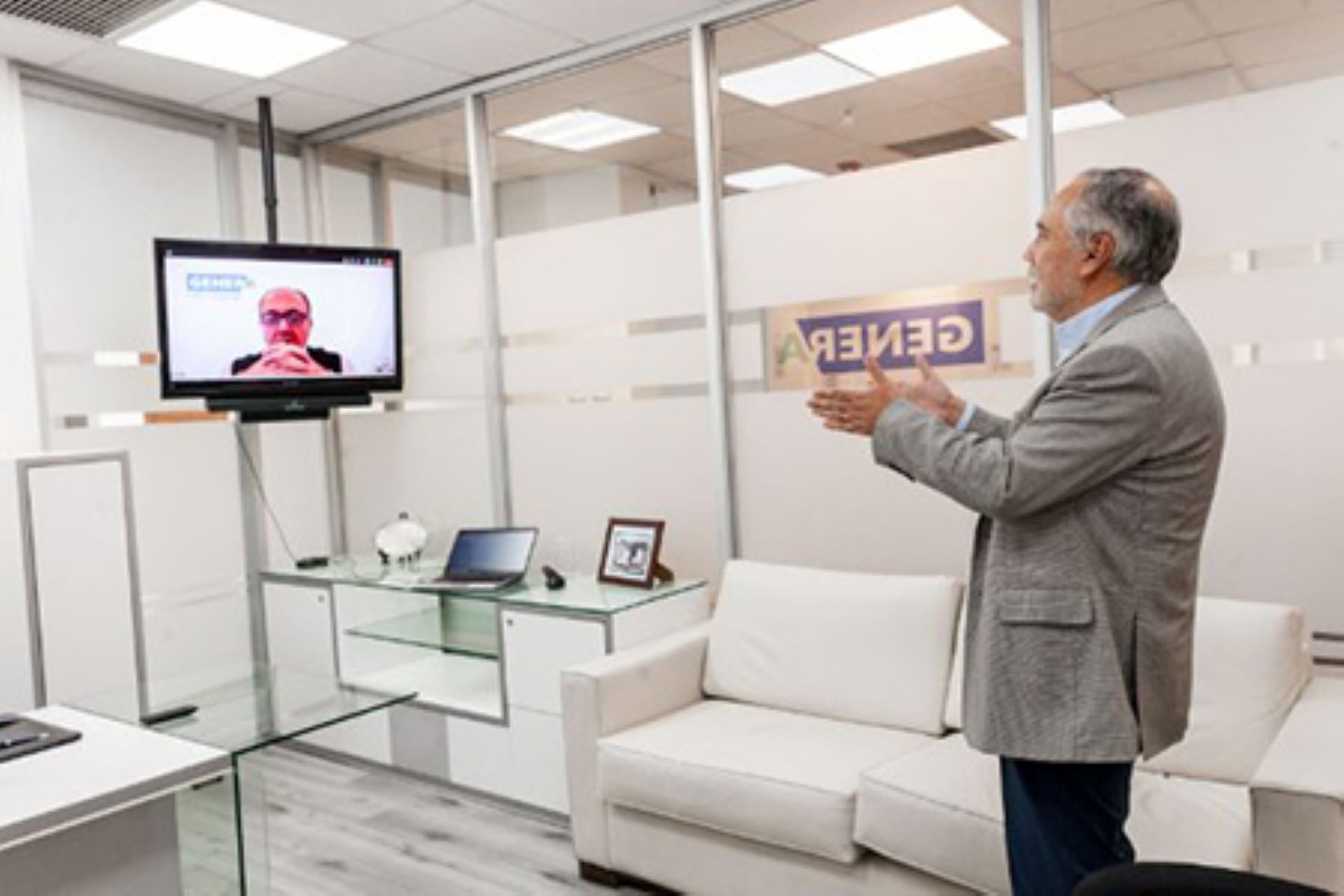 Genera
Genera, a Chilean company with over 35 years of experience developing advanced technologies for personnel management, recently invested in a robust videoconferencing solution to enhance its communication with customers, suppliers, and collaborators. The COVID-19 pandemic served as a catalyst for Genera to re-evaluate their communication strategy and invest in a videoconferencing solution that would allow them to maintain permanent and close contact with their customers.
Genera's executives identified that their meetings and day-to-day work would move towards a hybrid model, with some of their employees participating in-person at the office, while others worked remotely. Genera needed a videoconferencing solution that would facilitate easy communication between its team and its clients in an agile, reliable, and hassle-free way.
After exploring different options available in the market and consulting with several AV integrators, Chilean integrator Opentec proposed an extended demo of the Bose Videobar VB1. The Genera team quickly became familiar with the device features and functionality, experiencing the ease of intuitive hybrid meeting technology. The Bose Videobar VB1 provided natural sound, clear 4k ultra-HD images, and the versatility needed to support their meeting culture.
Opentec analyzed Genera's CEO's office and boardroom, which are acoustically complex and versatile, to ensure the best positioning within the space. The optional kit for mounting below the video screen was used to suspend both the display and the Bose Videobar VB1 devices from a pole, enhancing the built-in tilt and zoom capabilities to ensure all meeting participants were visible regardless of seating arrangements. The laptop that runs the videoconference meetings is placed on a credenza located just below the VB1, taking advantage of the single USB cable connection.
The Bose Videobar VB1 six beam-steering microphones within the meeting room adjust to the large number of glass surfaces and achieve efficient voice pickup and ambient noise cancellation so remote participants can hear all Genera collaborators clearly. Since Genera uses Microsoft Teams as their standard productivity UC platform, using the Bose Videobar VB1 was easier than expected. Being certified for Microsoft Teams, integration and operation with the Bose Videobar VB1 flows smoothly and helps meetings start immediately.
The Bose Videobar VB1 has become an integral part of how the Genera team operates, providing intuitive, transparent technology, so scheduling hybrid meetings is quick, keeping the meeting focused on communicating with customers, finding solutions to their needs, and collaborating at a moment's notice. The audio clarity allows attendees to fully comprehend the ideas and information presented by Genera's collaborators, whether they are talking while walking around or moving to the whiteboard or sitting in the far corner of the meeting room.
By investing in the Bose Videobar VB1, Genera has streamlined its communication processes and enhanced its ability to collaborate with customers, suppliers, and collaborators in a hybrid model work environment. The solution has proven to be reliable, efficient, and hassle-free, allowing Genera to focus on what matters most – providing excellent customer service and developing advanced technologies for personnel management.
Check out our range of video conferencing solutions, including the Bose Videobar VB-1 and Bose Videobar VB-S. https://proaudio.upsprocurement.com/product-category/all-products/conferencing/videobars/