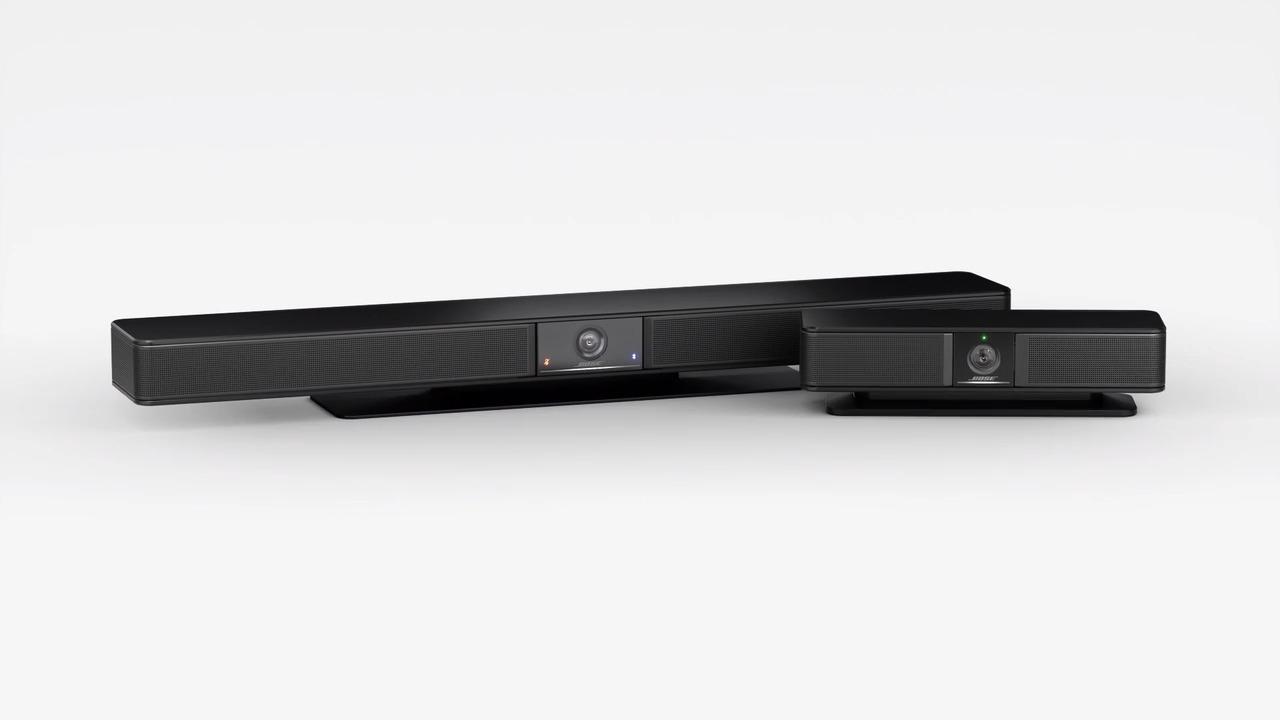 Unraveling the Ultimate Video Conferencing Solutions
Conferencing Solutions: Bose Videobar VB1 and Bose Videobar VBS vs. Webcam
In the ever-evolving world of remote communication and virtual collaboration, video conferencing has become an indispensable tool for businesses and institutions alike. To ensure seamless and high-quality communication, Bose, a renowned name in audio technology, offers two cutting-edge solutions: the Bose Videobar VB1 and the Bose Videobar VB-S. In this comprehensive guide, we will explore the key differences between these two devices and highlight the numerous benefits they offer over traditional webcams.

Bose Videobar VB1: Ideal for Medium-Sized Rooms
The Bose Videobar VB1 is tailored for use in medium-sized conference rooms, with dimensions of up to 6 x 6 meters. This impressive device comes equipped with 6 beam steering microphones, which are meticulously designed to ensure optimal speech transmission. The inclusion of exclusion zones enables the rejection of unwanted sound, while the auto EQ feature ensures that all participants enjoy an optimized audio experience.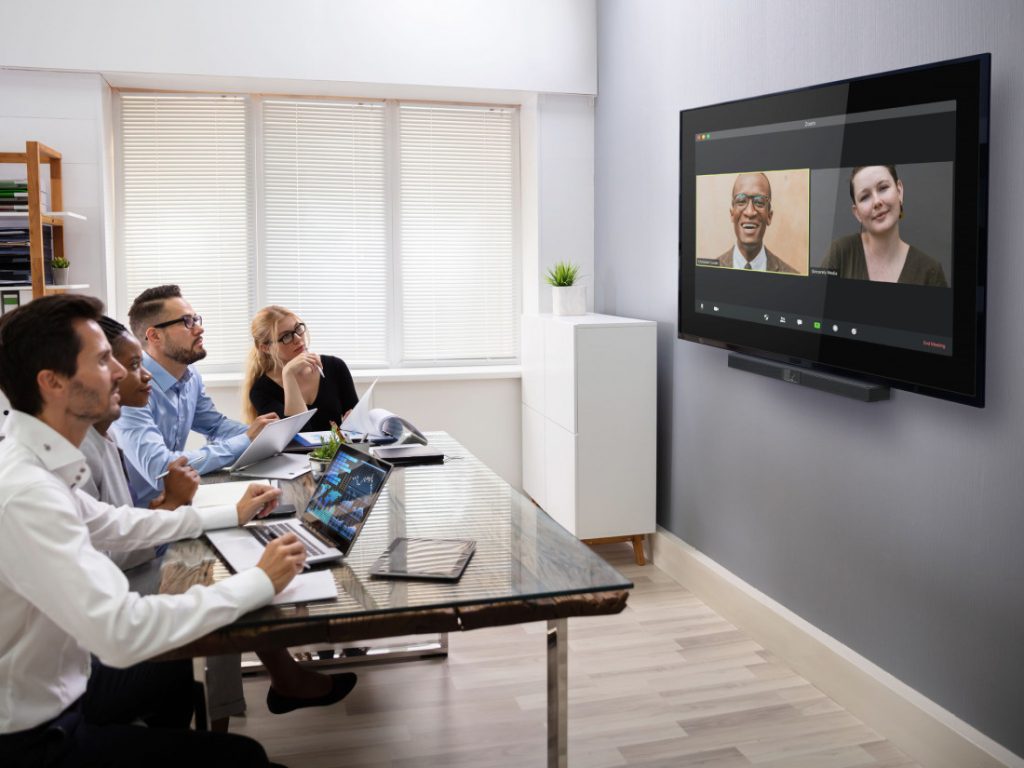 Bose Videobar VB-S: Perfect for Smaller Rooms
In contrast, the Bose Videobar VB-S is tailored for use in smaller rooms, accommodating spaces of up to 3 x 3 meters. This compact solution is armed with 4 beam steering microphones, delivering exceptional audio clarity and focus on speech transmission.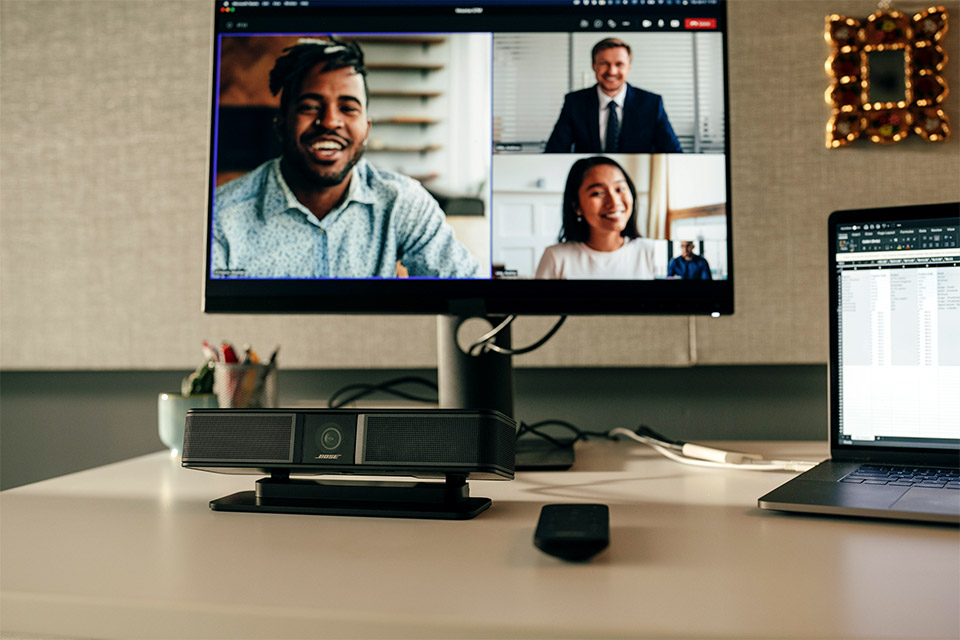 Versatility Across Leading Unified Communications Platforms
Regardless of the room size or device model, both the Videobar VB1 and Videobar VB-S offer seamless integration with leading Unified Communications platforms, including Microsoft Teams, Zoom, Google Meet, and others. This ensures that users can effortlessly connect and collaborate using their preferred communication tool.

User-Friendly Configuration and Management
Setting up the Bose Videobar devices is a breeze, thanks to the Bose Work configuration software, accessible either as an app or through a web browser. This empowers users to perform initial setup tasks with ease. Additionally, Bose Work Management software enables remote device management, whether for a single device or an entire enterprise, streamlining the process of making changes and monitoring device status.
Real-Time Control with Bose Work Mobile App
Enhancing user convenience further, Bose offers the Work mobile app, which grants real-time control over the Videobar devices from a smartphone. Users can effortlessly adjust volume levels, mute audio, pan, tilt, zoom, manage presentations, and even pair with Bluetooth devices, all at their fingertips.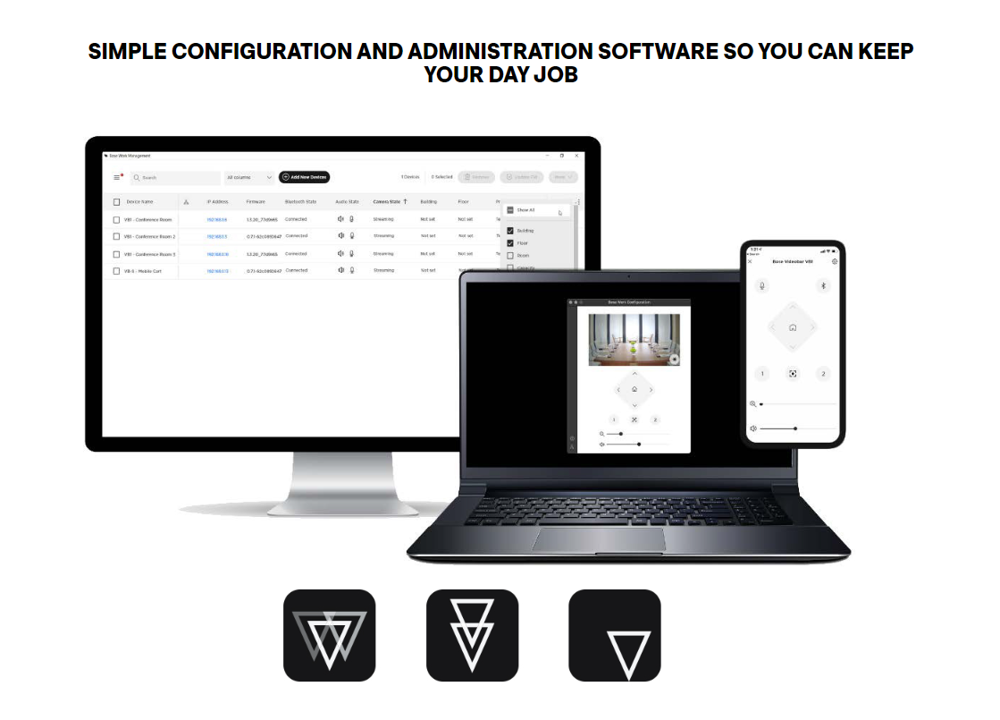 Robust Connectivity Options
Both the Bose Videobar VB1 and VB-S offer a range of connectivity options to suit different needs. The VB1 boasts an extensive array of connections, including USB Type-C®, Wi-Fi, 1 Gbps Ethernet, Bluetooth, HDMI output, 3.5mm (1/8in) aux input, and 2-pin Euroblock GPI. On the other hand, the VB-S features USB Type-C®, Wi-Fi, and Bluetooth connectivity, catering to more streamlined requirements.

Design Excellence and Flexibility
Bose Videobar devices boast an elegant and low-profile design, a hallmark of Bose engineering prowess. The closely integrated loudspeaker, microphones, and electronics deliver outstanding performance without any interference, providing unparalleled audio and video quality during conferences.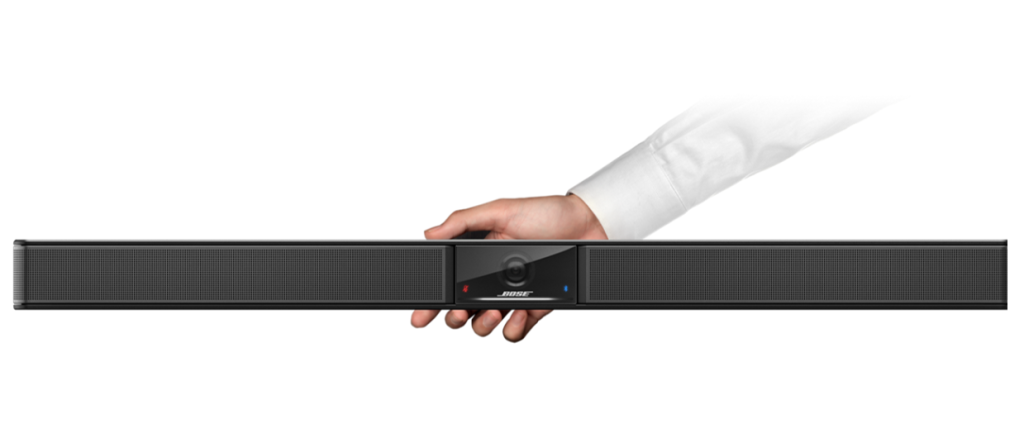 Choosing the Right Solution for Your Needs
While both the Bose Videobar VB1 and VB-S excel in delivering top-notch video conferencing experiences, their ideal use cases differ slightly. The VB1's larger room coverage and advanced features make it well-suited for companies or institutions hosting conferences with a substantial number of participants. On the other hand, the VB-S shines in small meetings and events, including seminars, workshops, and lectures, thanks to its "Individual" mode, which dynamically follows and focuses on the speaker.


Conclusion
the Bose Videobar VB1 and Videobar VB-S stand as the epitome of cutting-edge video conferencing solutions. With their advanced technology, seamless integration, user-friendly configuration, and exceptional audio and video quality, these devices elevate the remote communication experience to new heights. Whether you operate in a medium-sized conference room or a compact meeting space, Bose Videobar devices are your ticket to immersive and engaging virtual collaborations, outshining traditional webcams by a considerable margin. Embrace the future of video conferencing with Bose Videobar VB1 and VB-S today.
Bose Videobars
Check out our range of video conferencing solutions, including the Bose Videobar VB-1 and Bose Videobar VB-S. Link: https://proaudio.upsprocurement.com/product-category/all-products/conferencing/videobars/