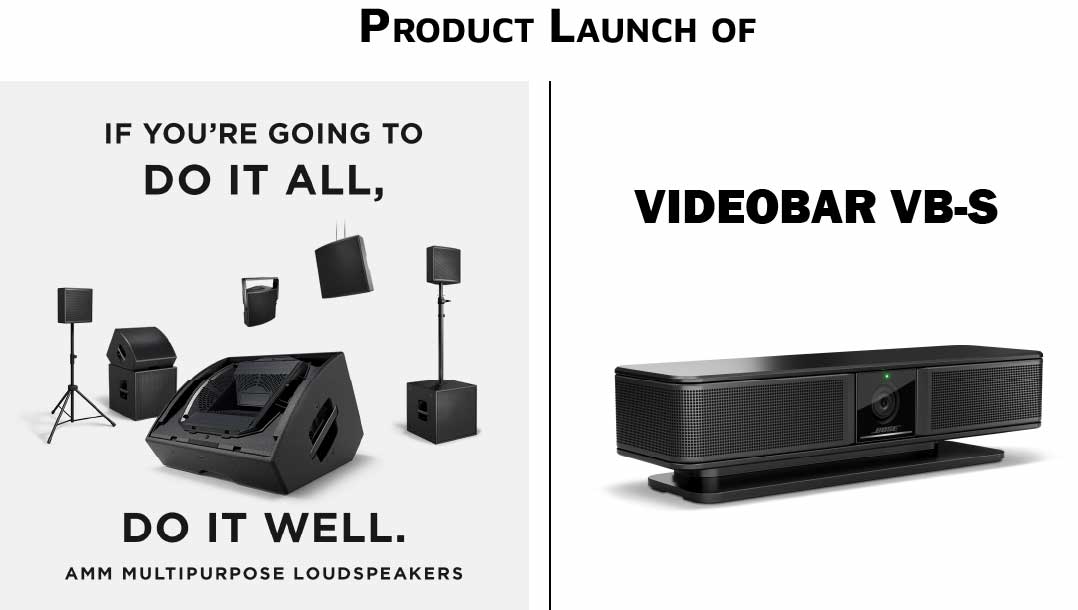 Bose Professional AMM Speaker & Bose Videobar VB-S product launch event in Singapore
1. UPS Procurement together with Bose Professional Singapore will be holding a Bose Professional launch event for the new AMM Multipurpose Speaker and Bose Videobar VB-S.
Audio professional will be able to get a first-hand experience on Bose Professional AMM multipurpose loudspeakers and the Videobar VB-S.
Event Details
2. The product launch will be held at:
Launch of the Bose AMM Multipurpose Speakers
3. A patented Bose Beamwidth Matching Waveguide, AMM loudspeakers provide hallmark Bose sound quality, delivering consistent frequency response, clarity, and projection across the coverage area – a remarkable audio experience for artists and audiences alike.
The Bose Professional AMM multipurpose loudspeakers have a passive, coaxial, two-way design and are versatile by design. Professional can utilize them as mains, monitors, fillers, or delays in portable or fixed configurations. Because Bose AM array modules and Bose AMU utility loudspeakers have a consistent voice, it is simple to combine models from all three lines to build various types of systems. The AMM line consists of two full-range loudspeakers and a subwoofer that require Bose DSP for optimal performance and protection.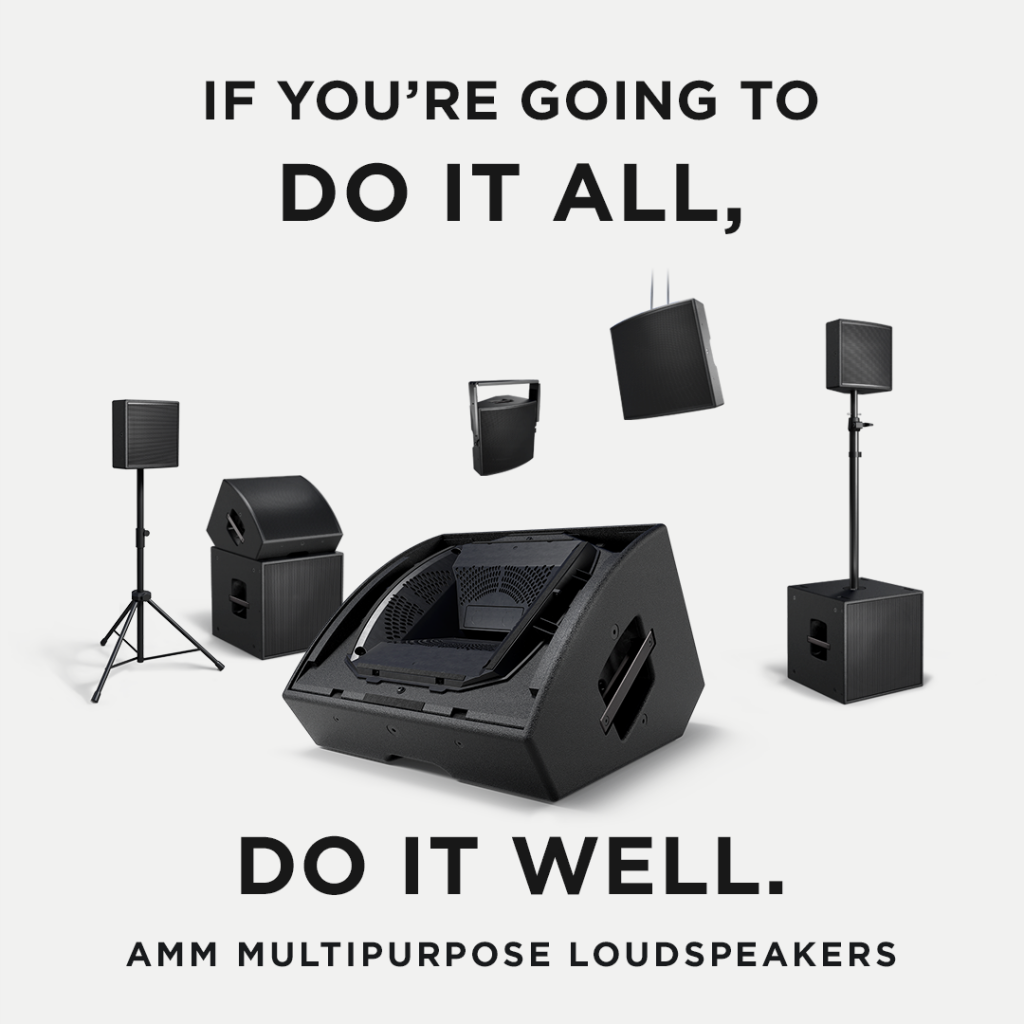 Key Attributes of the AMM loudspeakers
Compact high-output design with shared-magnet coaxial driver generates 128 dB peak via 1.7-inch compression driver and 8-inch low-frequency driver.
Extend system bandwidth to 35 Hz when coupled with the AMS115 subwoofer.
Consistent tone and voicing with Bose AM array modules and Bose AMU utility loudspeakers – construct full systems with ease and save considerable time during system configuration.
Proprietary Beamwidth Matching Waveguide ensures Bose's unique sound quality by aligning low and high beamwidth via the crossover zone to give outstanding tonal consistency throughout the coverage area.
Multi-position enclosure with a 110° 60° coverage angle – quickly switch between horizontal and vertical coverage by turning the cabinet without disassembly or tools.
Lightweight Cabinet weighing 13 kg (29 lb) has broad, ergonomic handle and 35 mm pole cup for simple travel and assembly.
Pair with Bose PowerMatch amplifiers and ControlSpace DSP for optimal performance and protection of loudspeakers.
Utilize the optional U-bracket, suspension bracket, Pan-and-tilt bracket for RMU, or the six integrated M10 inserts for custom suspension.
Also available is the companion AMS115 multifunctional subwoofer — Low frequency down to 35 Hz, 130 dB peak output, 28 kg (63 lb) transducer with integrated M20 threaded pole mount and 12 M10 threaded inserts for suspension in permanent installations.
Launch of the Bose Videobar VB-S
4. Similar to the original Bose Videobar VB1, the Bose Videobar VB-S is compatible with prominent third-party cloud conferencing services, such as Microsoft Teams, Zoom, and Google Meet, enhancing the visual and audio performance of essential unified communication platforms. This allows users to join conference calls regardless of platform and collaborate with remote coworkers from any location without missing a beat.
Four beam-steering microphones actively concentrate on voices in the room, while exclusion zones help to reject unwanted sound and auto EQ optimizes the audio for all participants. A 4K ultra-HD camera with a wide field of view allows meeting participants to talk and be seen with greater clarity. Its Autoframing Mode is perfect for groups because it keeps in-room participants in view, allowing distant members to follow conversations and comprehend text on whiteboards, flipcharts, and other in-room objects. Follow-me Mode dynamically frames and follows a single presenter, making it suitable for teachers or anyone leading training sessions or group discussions.
Martin Bodley, director and worldwide head of Bose Work for Bose Professional, remarked, "The newest member of the Bose Videobar family expands the number of venues where businesses can rely on Bose quality and innovation to support their meeting needs." "The Videobar VB-S is ideal for smaller locations where IT administrators are forced to find a transparent solution that guarantees meetings are clear and staff feel engaged."
With the Bose Work Configuration software, the Bose Videobar VB-S can be set up quickly and with minimal effort. It is accessible by app or web browser and allows users to remotely manage their devices. The Bose Work Management program enables device status and control of essential features for a single device or all devices within an organization. The Bose Work mobile app enables users to alter device settings in real-time from a smartphone, including volume, mute, pan, tilt, zoom, preset control, and Bluetooth® pairing. It is easy to deploy and administer the Bose Videobar VB-S from anywhere, regardless of whether it is a single unit installed in a single meeting area or thousands of units installed in conference rooms throughout the world.
Proprietary Bose transducer delivers rich, intelligible audio from a connected laptop or wireless Bluetooth® device for an engaging, satisfying audio experience.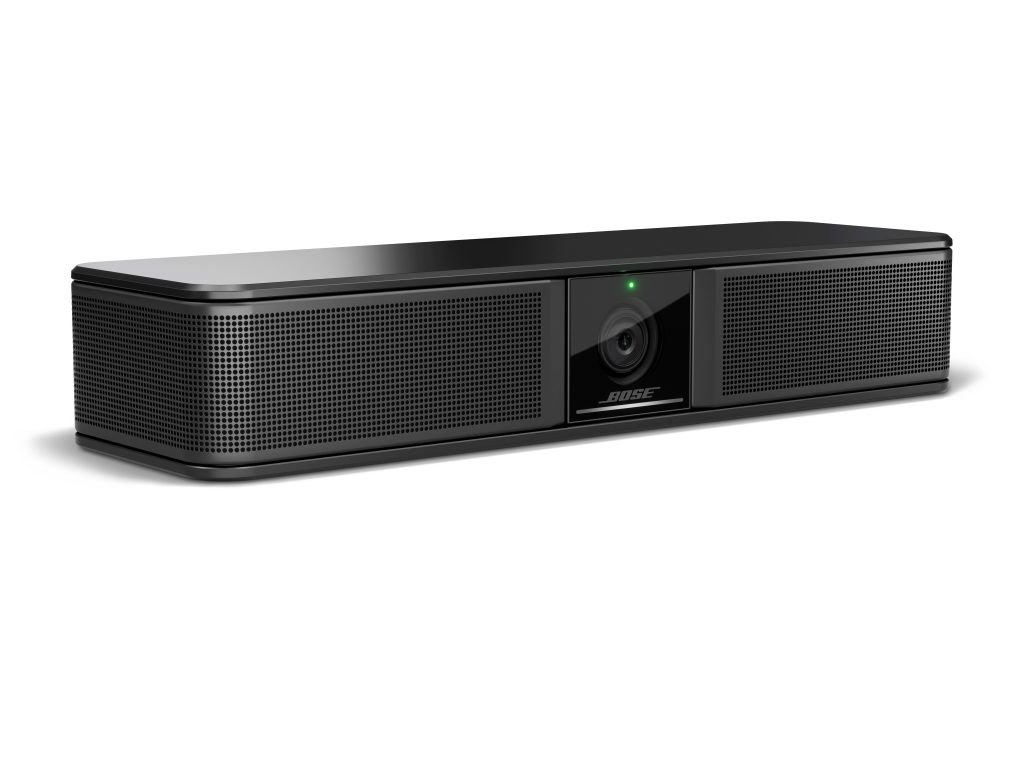 Key Attributes of the Bose Videobar VB-S
All-in-one USB Solution
4k Ultra-HD Camera
Signature Bose Sound Quality
4 Beam-Steering Microphones
Group Mode
Remote Management
Elegant Low-Profile Design
Individual Mode
Multiple Mounting Options
Resellers can RSVP for the event
5. RSVP for the event by signing up via google form or scan the QR Code below. Light refreshment will be provided on the day of the event.