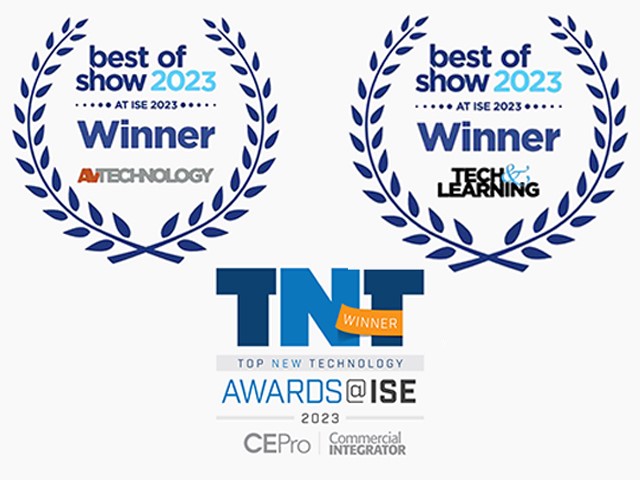 The Bose VideoBar VB-S has won big at ISE 2023
The Bose VideoBar VB-S has emerged as the big winner at the prestigious Integrated Systems Europe (ISE) 2023, securing the title of "Best of Show" in the AV Technology category. This remarkable achievement was recognized by AVTechnology and Installation magazines, two leading publications in the audio-visual industry.
The ISE is an annual event that showcases the latest innovations and advancements in integrated systems, including audio, video, and communication technologies. It attracts manufacturers, professionals, and experts from around the world, making it a highly competitive platform for showcasing cutting-edge products.
The Best of Show awards at ISE are considered a significant honor, as they are determined by a panel of industry experts who remain anonymous to the participating manufacturers. These experts, which include AV/IT managers, directors, engineers, and industry consultants, thoroughly evaluate the products based on their category and select the most exceptional offerings.
This all-in-one USB conferencing device combines high-quality audio and video capabilities, making it an ideal solution for professional meetings, conferences, and collaborative environments. The VideoBar VB-S offers a streamlined setup process and provides superior audio performance with its powerful speakers and advanced microphone array. The device also features a high-definition camera, enabling crystal-clear video conferencing experiences.
By winning the Best of Show at ISE 2023 for AV Technology, the Bose VideoBar VB-S has demonstrated its exceptional quality, innovative design, and outstanding performance. This achievement further solidifies Bose's position as a leader in the audiovisual industry.
The recognition from AVTechnology and Installation magazines adds to the prestige of this award, as these publications are widely respected and influential within the AV community. Their endorsement of the Bose VideoBar VB-S reinforces its status as a game-changing product that sets new standards for USB conferencing devices.
Bose Professional's commitment to delivering cutting-edge solutions that enhance audio and video experiences is evident in the VideoBar VB-S. This accolade is a testament to their dedication to innovation and their ability to understand and address the evolving needs of the market.
As the winner of the Best of Show at ISE 2023 for AV Technology, the Bose VideoBar VB-S has proven its excellence and earned the admiration of industry experts. It serves as a benchmark for future advancements in the audiovisual domain and further solidifies Bose's position as a pioneer in the field. With its exceptional performance and innovative features, the Bose VideoBar VB-S is poised to revolutionize USB conferencing and make a significant impact in professional communication and collaboration.
Check out our range of video conferencing solutions, including the Bose Videobar VB-S and Bose Videobar VB-1. https://proaudio.upsprocurement.com/product-category/all-products/conferencing/videobars/