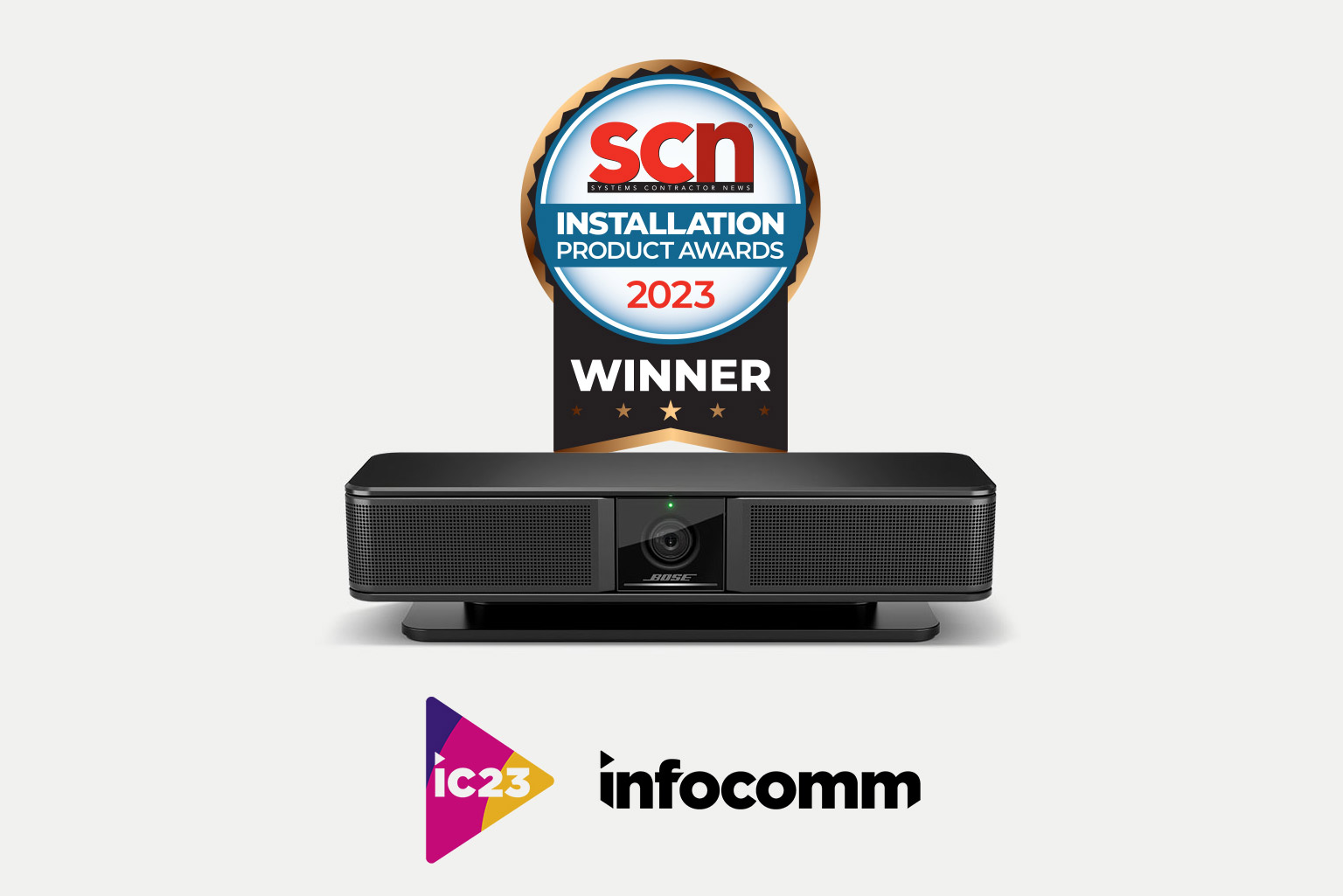 Celebrating Excellence: Bose Videobar VB-S Wins Most Innovative Videoconferencing Product at SCN Installation Product Awards
Bose Professional, a leading name in the audio and video industry, has once again showcased its commitment to innovation and excellence with its latest achievement. The Bose Videobar VB-S has been honoured with the prestigious Most Innovative Videoconferencing Product award at the SCN Installation Product Awards. This recognition highlights the remarkable contributions and ground-breaking advancements made by Bose in the field of videoconferencing technology.
Recognizing Excellence at the SCN Installation Product Awards
The SCN Installation Product Awards, held during the InfoComm 2023 event in Orlando, FL, celebrated outstanding products across 14 categories. The awards served as a platform to acknowledge industry leaders who have pushed the boundaries of creativity and introduced game-changing solutions. Bose Professional emerged as a winner in the highly competitive Most Innovative Videoconferencing Product category, reaffirming its position as a pioneer in the audiovisual industry.
Unparalleled Audio and Video Performance of the Videobar VB-S
The Videobar VB-S is a testament to Bose's unwavering commitment to providing cutting-edge solutions for modern communication needs. This innovative videoconferencing product combines advanced audio technologies with high-definition video capabilities, creating a seamless and immersive conferencing experience. Designed to meet the demands of today's collaborative work environments, the Videobar VB-S offers crystal-clear audio, superior video quality, and effortless integration.
Simplicity and Integration: A Seamless Meeting Experience
One of the standout features of the Videobar VB-S is its simplicity of use. The sleek and compact design houses an all-in-one solution, eliminating the need for complex setups and multiple devices. With a single plug-and-play connection, users can transform any room into a professional meeting space. The Videobar VB-S seamlessly integrates with popular videoconferencing platforms, ensuring compatibility and ease of use across various applications.
Sustainable Solutions for a Greener Future
The Bose Videobar VB-S stands out among its competitors not only for its exceptional performance but also for its focus on sustainability. As organizations increasingly prioritize environmentally responsible solutions, Bose has taken significant steps to reduce the product's carbon footprint and promote sustainable practices. By selecting the Videobar VB-S, businesses can contribute to a greener future while enjoying state-of-the-art videoconferencing capabilities.
Bose Professional: Inspiring Innovation in the Industry
With this well-deserved accolade, Bose Professional continues to inspire the industry with its dedication to innovation and excellence. The Videobar VB-S represents a leap forward in videoconferencing technology, empowering organizations to communicate effectively and efficiently in the digital age.
Experience the Bose Videobar VB-S: Elevate Your Communication Experiences
As we congratulate all the winners of the SCN Installation Product Awards, we invite you to experience the remarkable capabilities of the Bose Videobar VB-S. Discover a new level of audio-visual excellence and transform your communication experiences with Bose Professional's award-winning solution. Elevate your videoconferencing sessions and unlock the potential of collaborative work with the Bose Videobar VB-S.
Check out our range of video conferencing solutions, including the Bose Videobar VB-S and Bose Videobar VB-1. https://proaudio.upsprocurement.com/product-category/all-products/conferencing/videobars/